You will learn to use your imagination and trust your intuition!
Learn skills on how to paint in a loose way and express yourself in acrylic and oil.
Discover my technique for a compelling underpainting.
Learn to trust yourself while approaching the composition with more imagination.
Develop a unique style.
Get rid of the fear in your art making.
Simplify the water reflection with a magical effect.
Explore unexpected tools that lend intriguing textures to your paintings.
I'll also share my 5 secrets that will help you loosen up as you approach a new painting.
Watch the video for a preview of the course.
Includes
VIDEO INSTRUCTION (a total of 4 hrs of video) 
14 videos that demonstrate the painting process in details. Monique reveals all her secrets. You will learn to build a successful design and develop an interesting composition, how to simplify the design while also making it alive and exciting. You will have unlimited access to the videos anytime and anywhere as long as you have internet connection!
HANDOUTS 
10 handouts PDF files to download. 
Monique's top secret supply list for abstract floral
Principles of an abstract landscape 
Comprehension of design and a composition 
Check list for evaluating your work
PRIVATE GROUP
Private Facebook group where you can share your work and connect with other artists.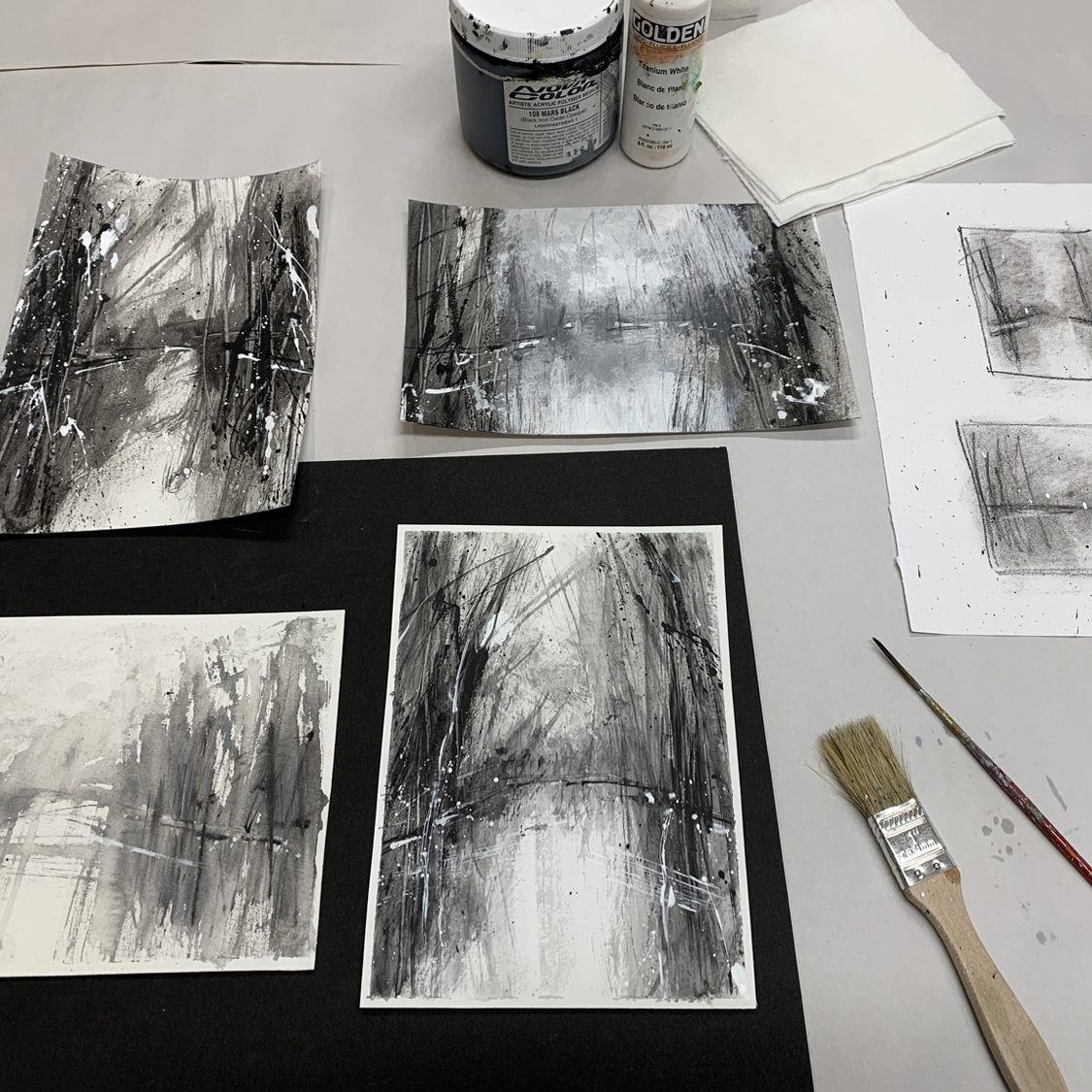 Build Successful Designs
In the first part of this course, learn to create successful designs and compositions.
Project 1: Sketching with charcoal
Project 2 and 3: Learn why warm ups are important to develop looseness. You will be doing several quick black and white acrylic paintings with on paper.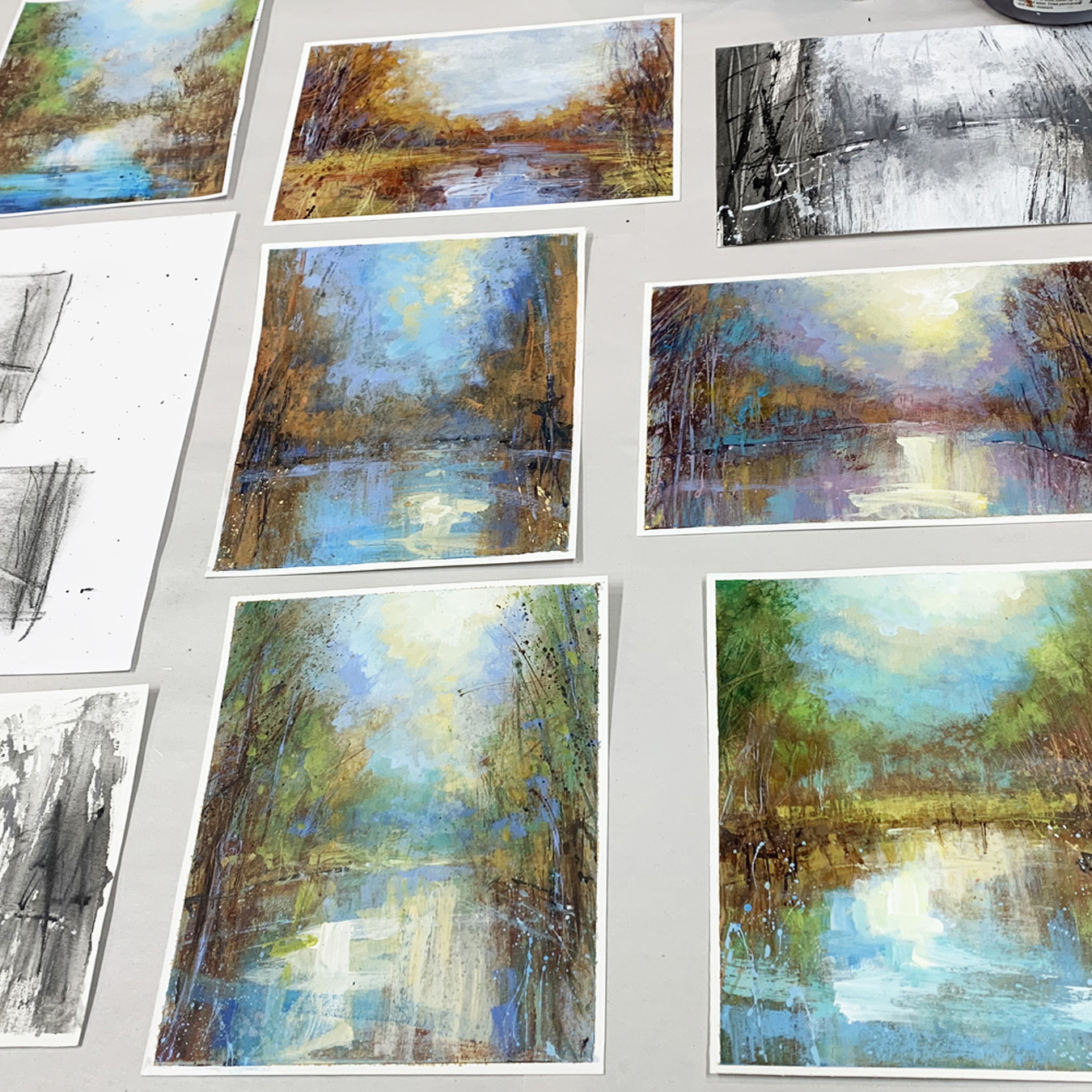 Colorful Study Paintings
No photographs are needed. Learn to trust your imagination.
Project 4: A demonstration in acrylic on paper.
Create vibrant paintings with a limited palette.
Simplify the water reflection while making it magical.
Bonus project: An extra demo showing how to use a new design.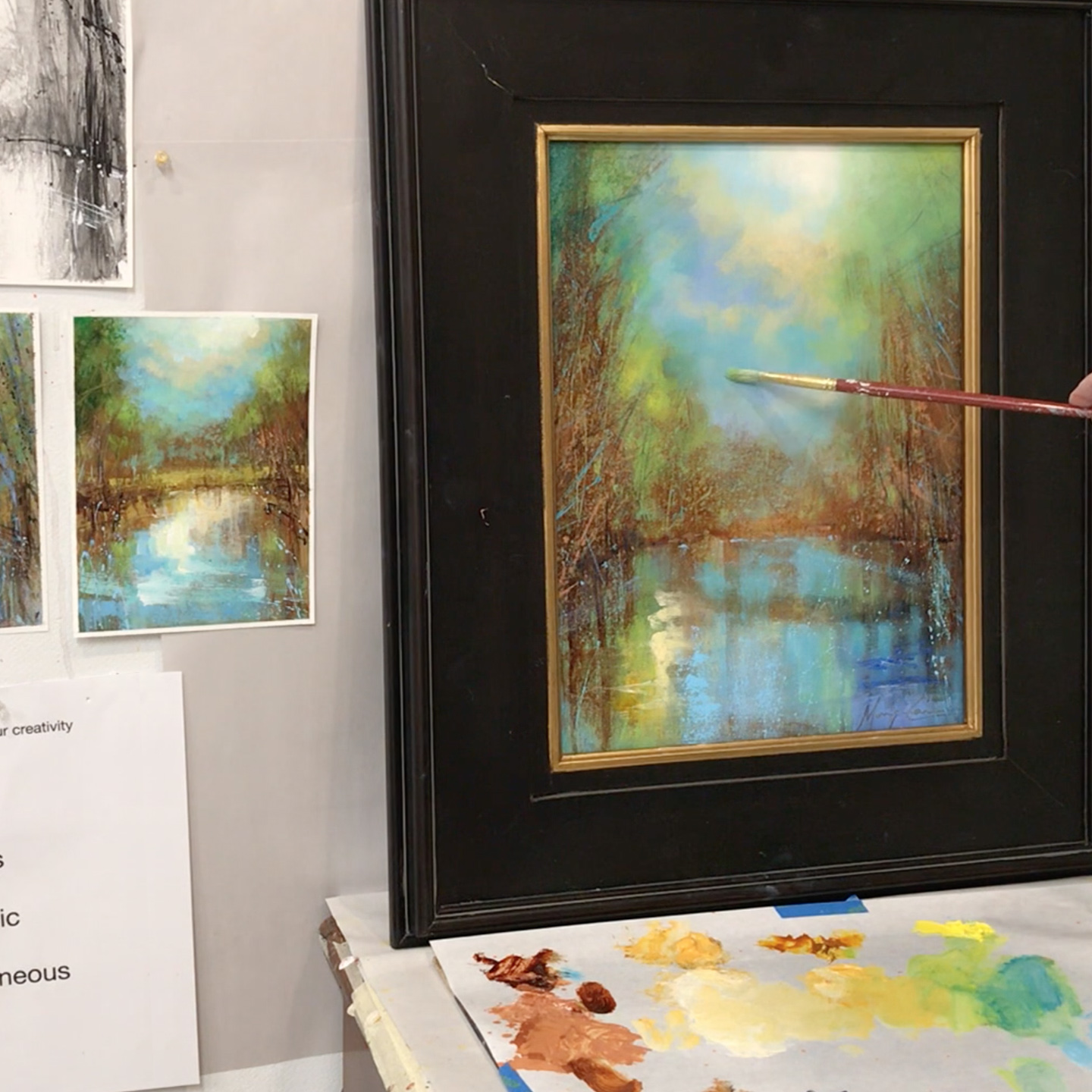 The Final Painting
(from a study)
Project 5: Learn to use your color studies to create larger painting.
Part 1: Build a compelling underpainting in acrylic. This is where you get loose and make 'happy accidents'.
Part 2: How to finish your painting using oil.
Learn to create fun texture.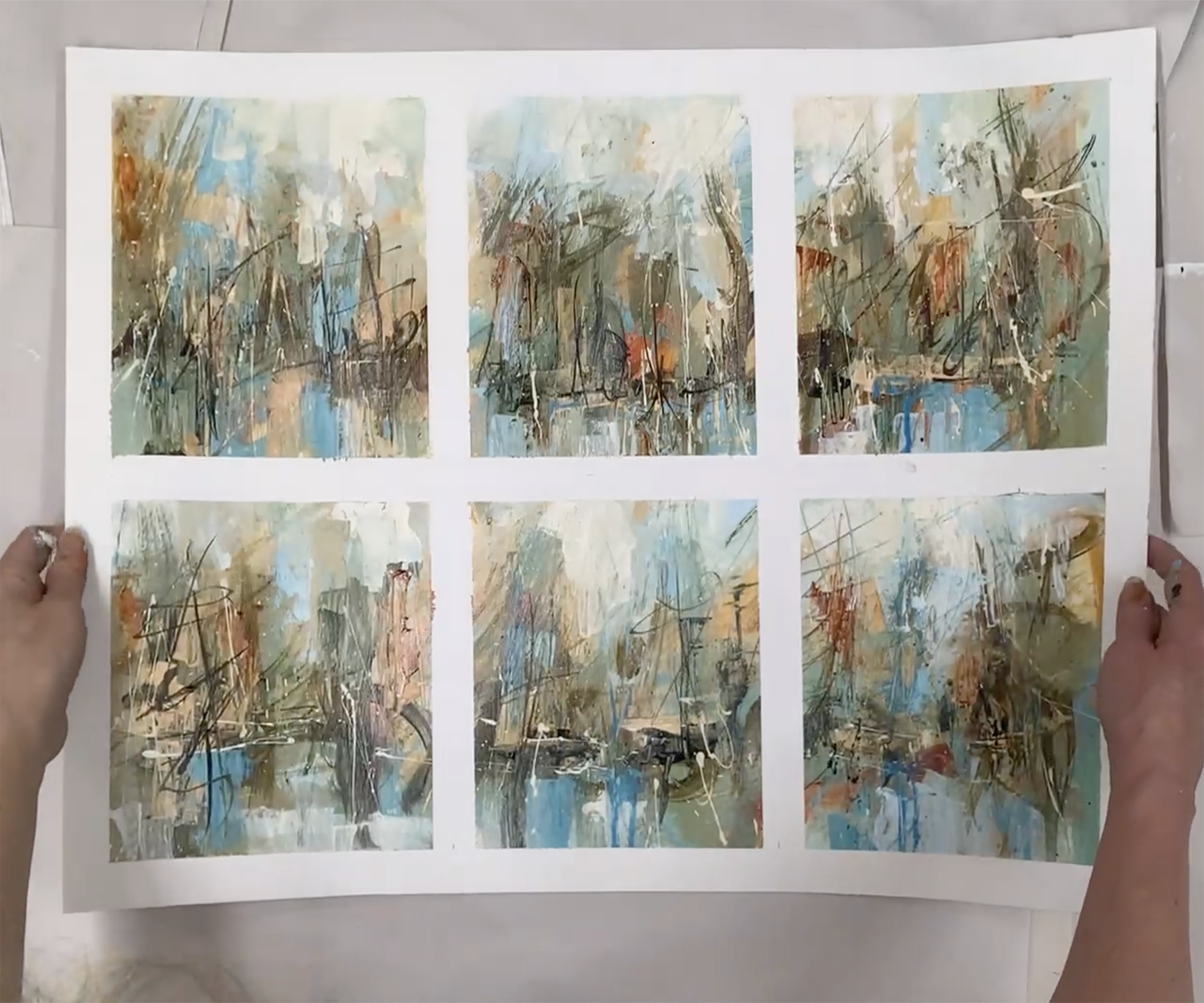 Exploration Without Fear
Discover your style by working on a series of fearless paintings where Monique guides you along the way in the project 6.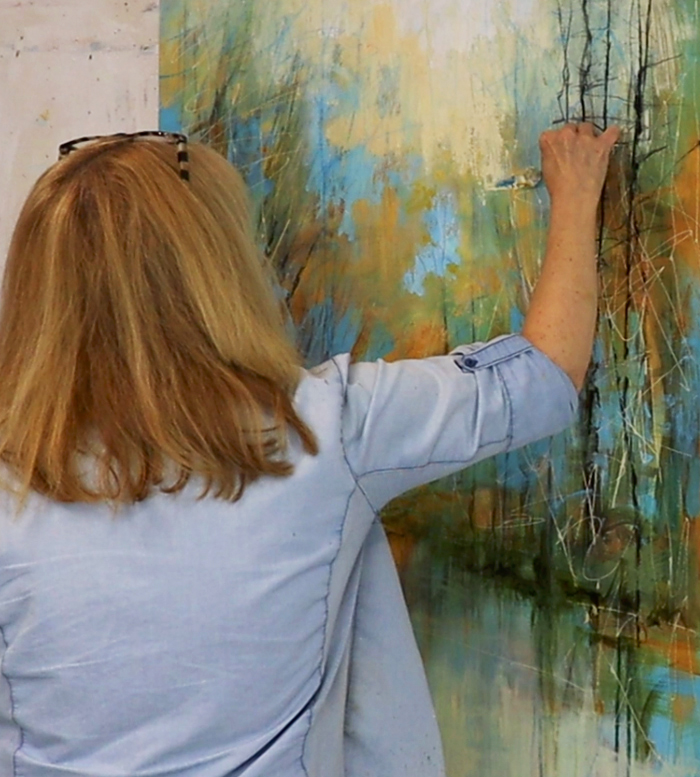 Paint large, Keep it Loose!
Project 7: Monique demonstrates how to develop a large painting (40"X30") from mark-making, layering, and keeping the work fresh till the end.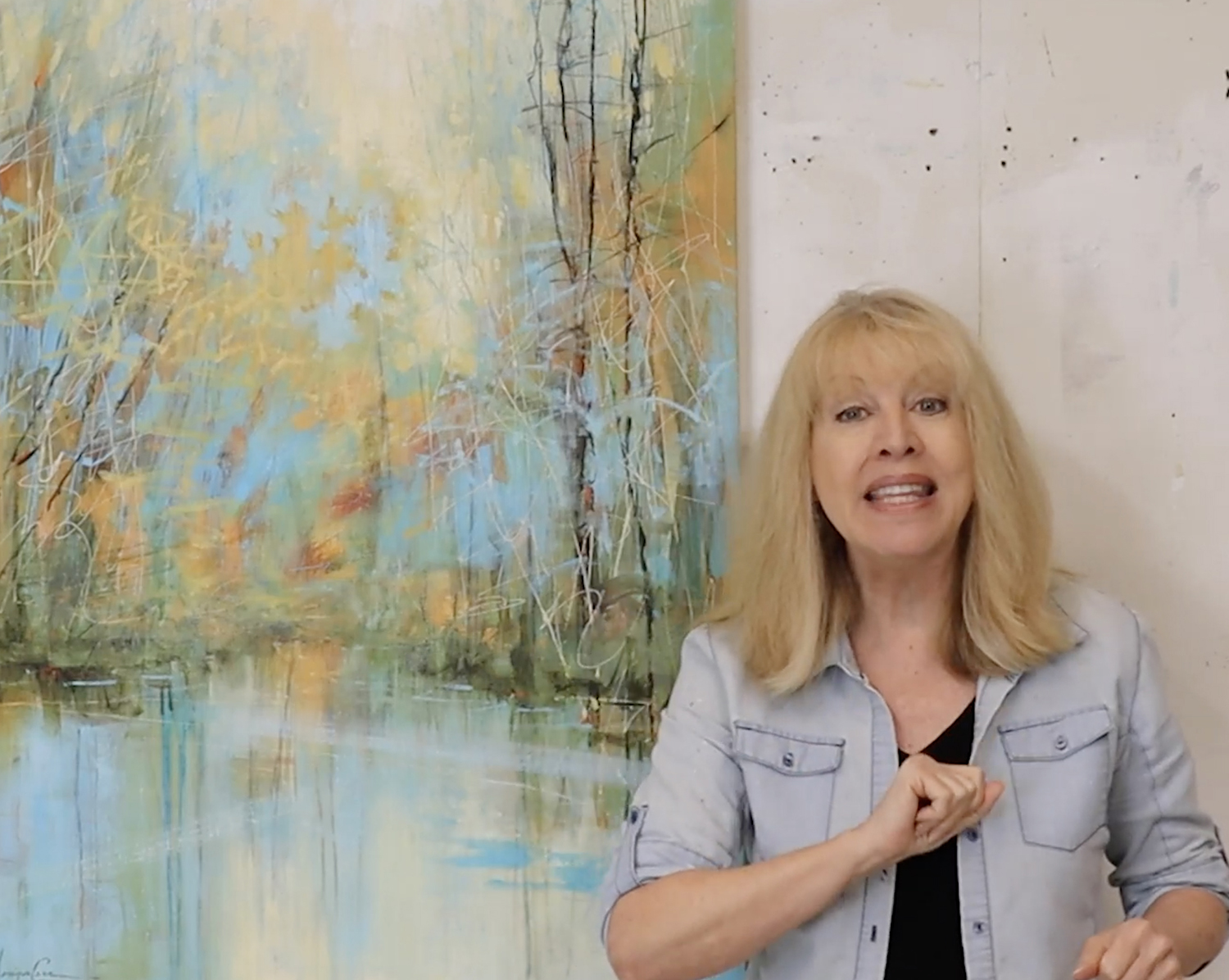 Bonus Videos
Bonus video #1: Monique talks about how to get rid of the 2 big FALSE beliefs that cause fear and stress in your art making.
Bonus video #2: Monique shares her secrets about evaluating your work and how to know when a painting is finished.
 3 BONUS VIDEOS
Bonus #1: How to paint with a new design, from Black & White exercises to a color painting.
Bonus #2: How to get rid of the fear in your art making. 
Bonus #3: How to evaluate your work and how to know when a painting is finished.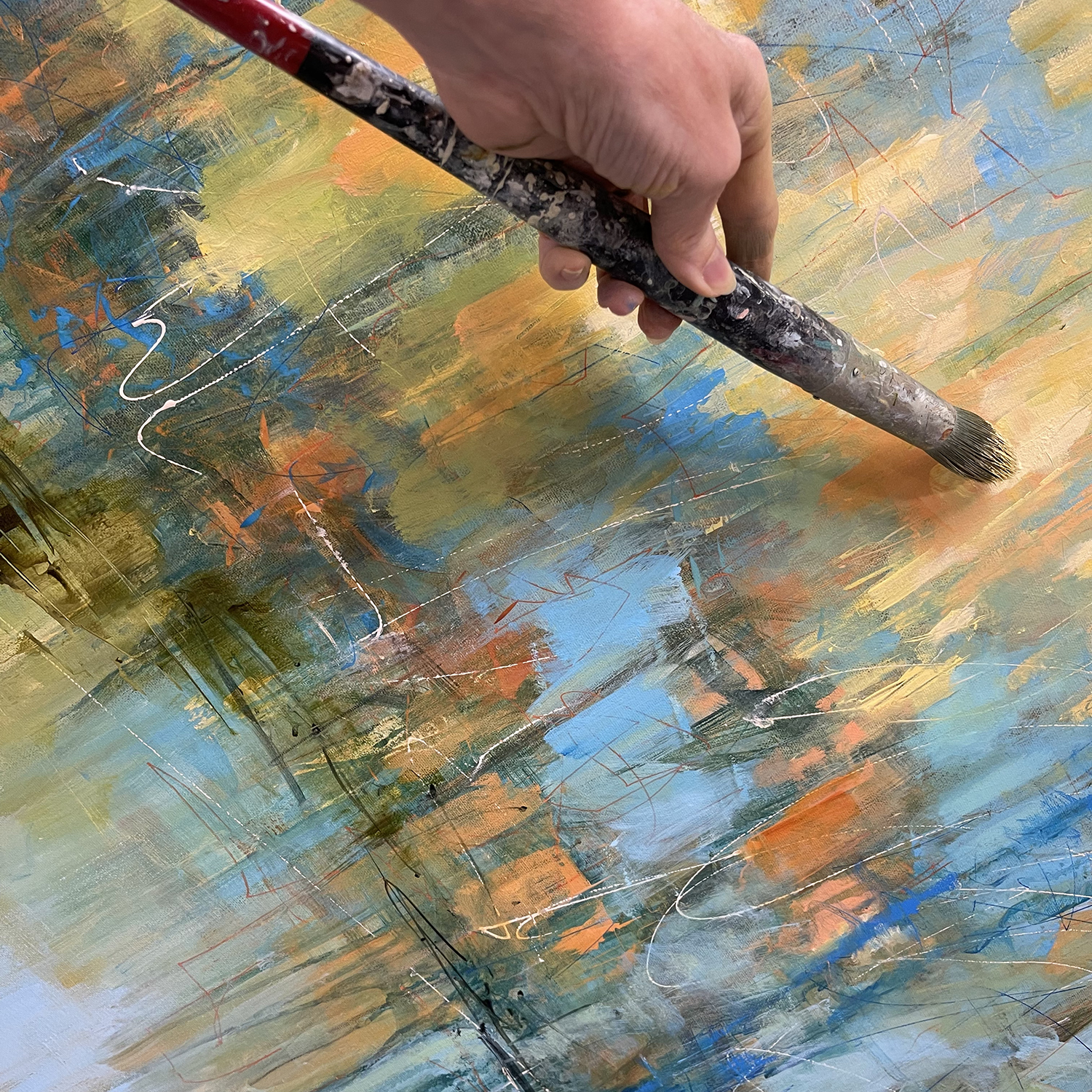 7 PROJECTS
Sketching with Charcoal and nailed the design.
Loosen up with Black & White Acrylic on Paper
Switch to colors! Small fun exercises 
Ready to paint on a stretched canvas. 
Exploration without fear.
Paint a large abstract landscape and keep it loose!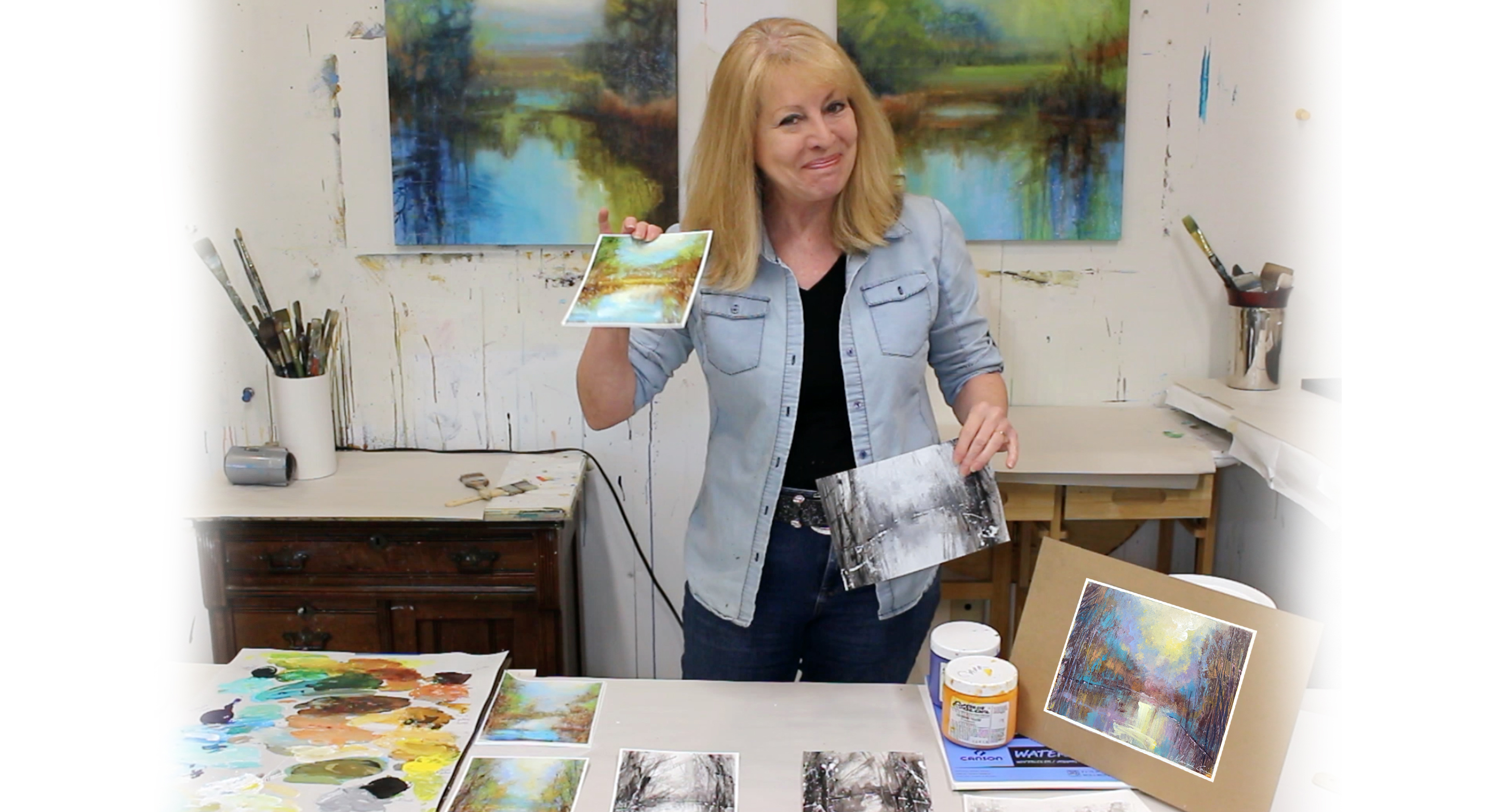 I've been a professional painter since 2008, and I've taught hundreds of students to paint with confidence, with more freedom while increasing their knowledge of painting technique. The reason I teach is to help artists improve their painting skills and find their voice. I love to teach and I hope you will join me for your next art adventure! 
CLICK HERE to view my work.
See what Cindi Strehlow has to say about Monique's online courses.


"I just want to thank Monique Carr for sharing her talent and providing instruction and encouragement to people such as myself. I have learned so much this past year and have improved my skills by following her instruction and advice to be fearless and go for it. Blessings to you Monique and thank you artists for sharing your successes and struggles. You all have made a difference in my life."
Cindi Strehlow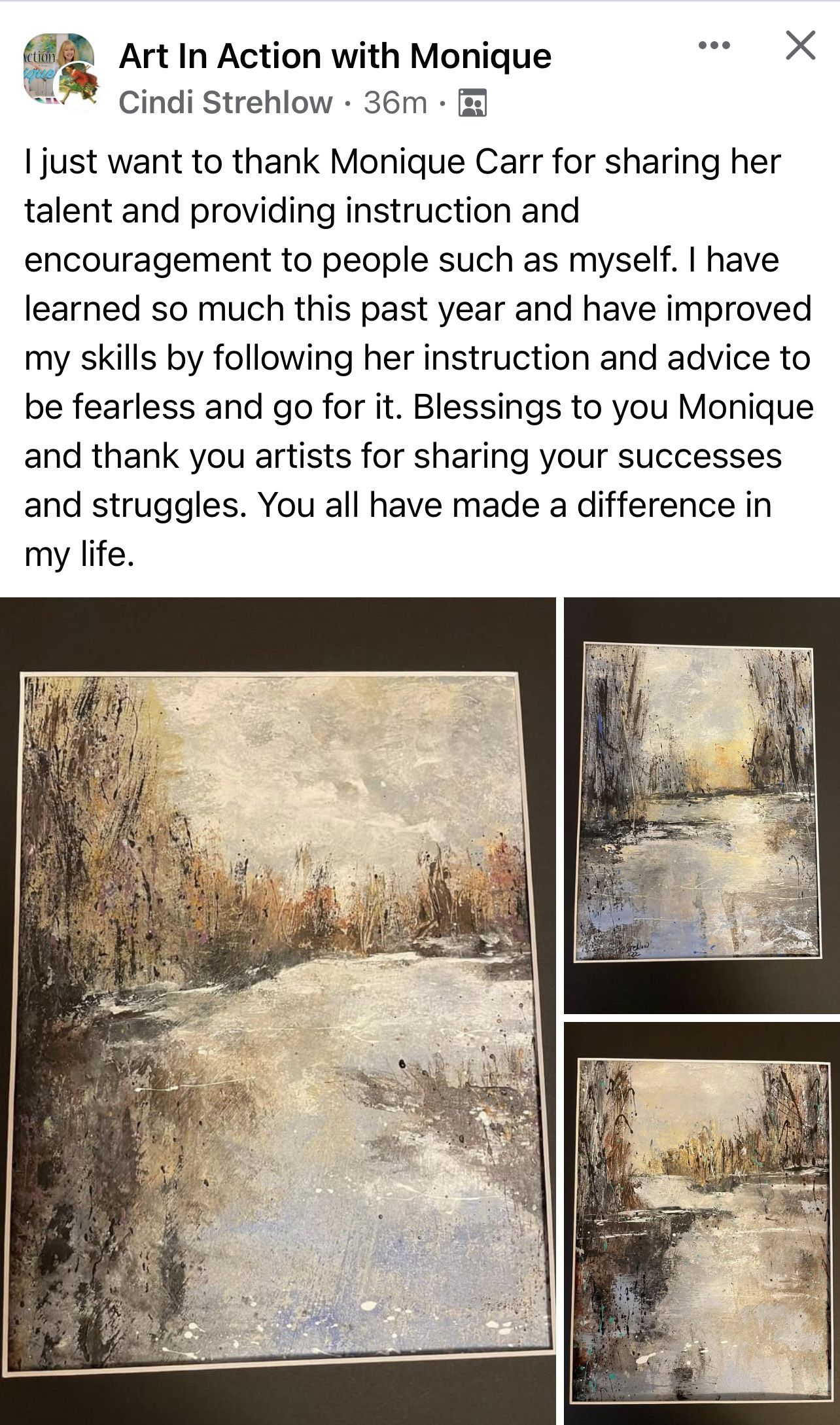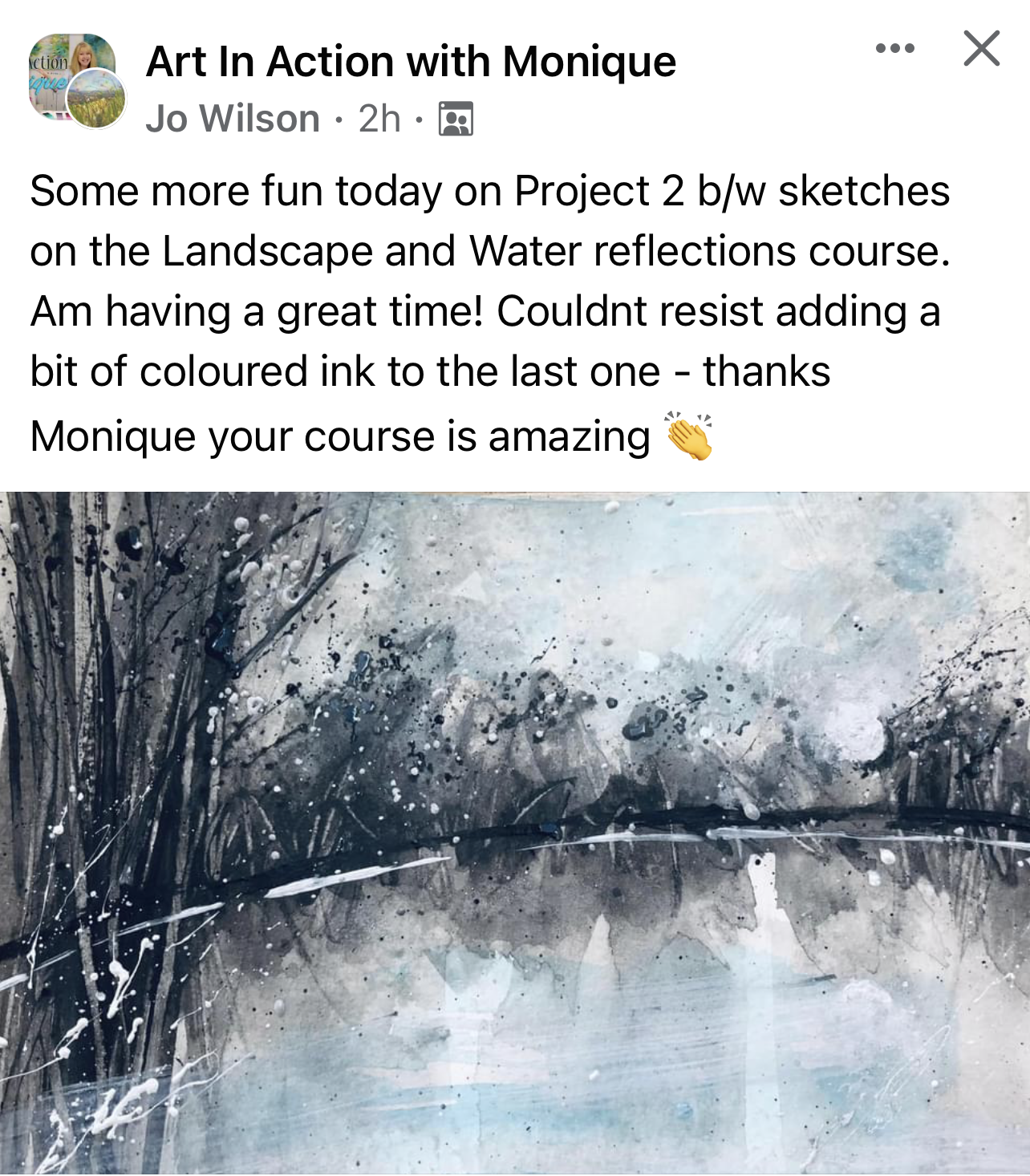 See what Jo Wilson has to say about Monique's online courses.

"Some more fun today on Project 2 b/w sketches on the Landscape and Water reflections course. Am having a great time! Couldn't resist adding a bit of colored ink to the last one. - thanks Monique, your course is amazing."
Jo Wilson


See what other students have to say about Monique's teaching:
Am so enjoying the water reflections course and am really excited to see the material with the new courses. I feel like you're giving me the key to a whole new world of possibilities with endless creative inspiration. I am so enjoying the practice sessions - they're so liberating and Monique, you really are inspiring. "
Jo Wilson
Monique Carr's classes are simple, straightforward and honest. She guides you gently and warmly through every step of the way and allows you to find your very own style through the art process, which was my experience. What the course promises, it delivers. It's worth every penny, you will definitely enjoy this course with Monique! Go for it, beginner or advanced, whatever level, you will come out of the course richer! 
Suchitra Lata
Monique, this has been so much fun and I learned so much. I don't want it to be over. I'm going to take another one of your online classes.
Judy Avrett
Monique, thank you! I was greatly influenced by your work and your online courses, and even though I have to go back through them again and actually do more of the paintings, you really have been an inspiration and influence.
Laura Jones
Monique, thank you so much for all the hard work you put into your online courses. It is greatly appreciated.
Catherine Cromwell
I knew I wanted to investigate painting techniques that Monique uses, but I had no idea how much they would influence my style of painting. I feel like I experienced a watershed moment!!!! Looking forward to keeping plugged into Monique's inspirational works.
Carol Dixon
Monique, you inspire me so much and I am so thankful to know you and learn from you! Thank you for your abundance, motivation, e piu!! Baci e Mille Grazie, 
Dee Datrifiletti
The art community and those who love fine art are recognizing Monique Carr more and more for her bold and vibrant paintings.  Her fame is on the rise and yet, she continues to share her skills and talents with those who aspire to be artists.  In her own words...she enjoys it all...contemporary, abstract, impressionist, and plein air.  I have taken several different classes with her, both contemporary and impressionistic.  In each, she had students of all levels of experience and she worked diligently to meet each at their own level.  Her innovative teaching techniques make for a delightful day of class and have inspired me to pour myself into my art anew.
Karen Dorr

Frequently Asked Questions
When does the course start?
As soon as you register, you will have access to all of the class content.
How long do I have access to the course?
Forever! After enrolling, you have unlimited access to this course for as long as you have the internet.
Where can I find the list of supplies?
Once you buy a course, you will have access the to the list of supplies.
Do I need any special apps to access the class?
No special apps are needed. You only need the internet access. After you have made the purchase, simply click on 'Access course' button once you receive your 'Order Summary' email and follow the instructions.
What medium this course uses?
I use acrylic paint for the underpainting and in my method, I finish it in oil. If you do not want to use oil, you will need 'Retarder' medium to slow the drying time for the final phase. However, acrylic paint is a must.
Do you teach your technique to create the texture you have in your underpainting? 
Yes! I demonstrate my technique to create a compelling underpainting with textures.
Do I need to use the same colors than yours?
You do not. You may use the colors that you already have. However, I encourage you to try different palette combinations to expend your experiences. 
What system requirements are needed?
This is an online course so you will need internet access. You can read, watch and listen to the materials on laptop, desktop or mobile device. Make sure that your internet browser is updated.
Is my credit card information secure?
Yes! Teachable checkout pages are encrypted and credit card payments are handled by their payment processor, Stripe, which is a well known and secure processor. PayPal is available as a payment option. You may check Stripe site for more info: https://stripe.com/docs/security/stripe
I'm not a computer savvy, what if I get "stuck"?
No problem, we will figure it out together.
Can I download the content/video?
All the pdfs are downloadable and printable. Videos are are not downloadable.
Can I ask a question during the class?
Absolutely! I'll be using our private Facebook group to offer assistance and keep an eye on questions that come up.
Do you give private online critiques?
Yes! I am offering a mentoring program where we work one-on-one using Zoom Platform. You will find more info on the front page of this website.
Is this class suitable for any level?
Absolutely! This course is opened to everyone—from beginners to the more experienced painters looking for new discoveries and creative inspiration. Some general understanding of color mixing is helpful, but if you don't, you can enroll in my 'Secret of Colors' class and learn about color mixing and everything else you need to know about colors.
How much time does it take to do the class?
Everyone works at a different pace. You can complete the class in two days or more. You can re-do the class over and over. The course is open to you forever!
Can I give this to a friend as a present?
Yes! You can purchase a gift certificate that you can find on the front page of this website.
Can the work I do in this course be sold or exhibited?
Yes! This class is designed for you to create your own work and develop your own style. Go for it!
What about refunds?
I'm pretty positive you are going to LOVE the class. To put your mind at ease, this course comes with a 30-day money back guarantee.