Increase your knowledge of color mixing in oil and acrylic.
Learn

about tinting, shading, toning, and monochromatic colors.

Discover the secret of luminosity.
Advance your skills to make wise color selections to achieve more unity to your paintings. 
Enjoy creating beautiful color charts and color wheels.
Build your portfolio of colors charts for future reference.
Watch this video for a preview of the course.
What's in the class? 
8 videos

 (a total of 2 hrs and 20 min of video)

6 projects - from making several color wheels -warm and cool, learning about tinting, shading and toning, and monochromatic colors.
A fun monochromatic painting project.
A bonus section on how to create luminosity!
5 handouts PDF files.
5 line-arts to download. 
Lifetime access to the videos.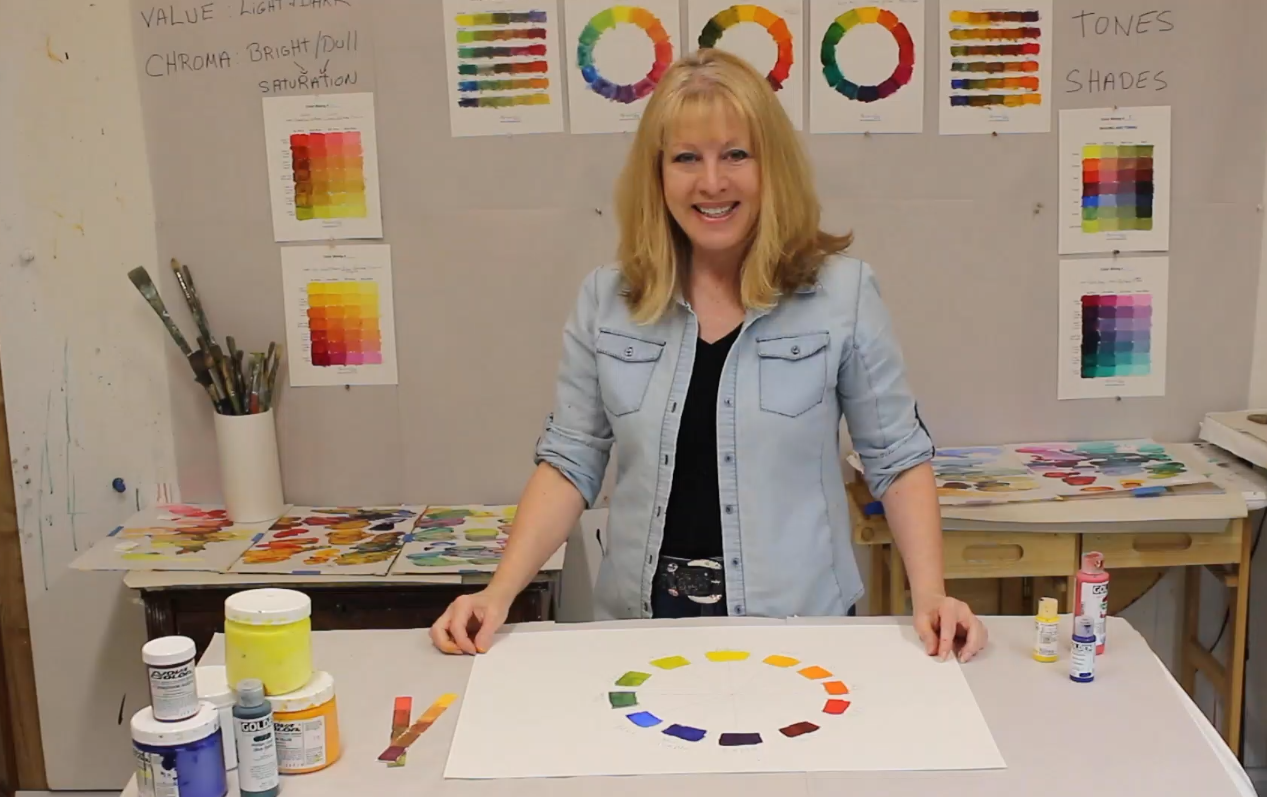 Bonjour! I'm Monique!
I'm looking forward to reveal you the secret of colors. After this class, you will have a better understanding of the colors and which will result of making wise color selections to achieve more unity for your paintings.
I've been a professional painter since 2008, and I've taught hundreds of students to paint with confidence, with more freedom while increasing their knowledge of painting technique. The reason I teach is to help artists improve their painting skills and find their voice. I love to teach and I hope you will join me for your next art adventure! 
CLICK HERE to view my work.
Frequently Asked Questions
When does the course start?
As soon as you register, you will have access to all of the class content.
How long do I have access to the course?
Forever! After enrolling, you have unlimited access to this course for as long as you have the internet.
Where can I find the list of supplies?
Once you buy a course, you will have access the to the list of supplies.
Do I need any special apps to access the class?
No special apps are needed. You only need the internet access. After you have made the purchase, simply click on 'Access course' button once you receive your 'Order Summary' email and follow the instructions.
What medium this course uses?
I use acrylic paint for the underpainting and in my method, I finish it in oil. If you do not want to use oil, you will need 'Retarder' medium to slow the drying time for the final phase. However, acrylic paint is a must.
Do you teach your technique to create the texture you have in your underpainting? 
Yes! I demonstrate my technique to create a compelling underpainting with textures.
Do I need to use the same colors than yours?
You do not. You may use the colors that you already have. However, I encourage you to try different palette combinations to expend your experiences. 
What system requirements are needed?
This is an online course so you will need internet access. You can read, watch and listen to the materials on laptop, desktop or mobile device. Make sure that your internet browser is updated.
Is my credit card information secure?
Yes! Teachable checkout pages are encrypted and credit card payments are handled by their payment processor, Stripe, which is a well known and secure processor. PayPal is available as a payment option. You may check Stripe site for more info: https://stripe.com/docs/security/stripe
I'm not a computer savvy, what if I get "stuck"?
No problem, you can reach me at [email protected] and send your questions. We can figure it out by phone or online.
Can I download the content/video?
All the pdfs are downloadable and printable. Videos are are not downloadable.
Can I ask a question during the class?
Absolutely! I'll be using our private Facebook group to offer assistance and keep an eye on questions that come up.
Do you give private online critiques?
Yes! I am offering a mentoring program where we work one-on-one using Zoom Platform. You will find more info on the front page of this website.
Is this class suitable for any level?
Absolutely! This course is opened to everyone—from beginners to the more experienced painters looking for new discoveries and creative inspiration. Some general understanding of color mixing is helpful, but if you don't, you can enroll in my 'Secret of Colors' class and learn about color mixing and everything else you need to know about colors.
How much time does it take to do the class?
Everyone works at a different pace. You can complete the class in two days or more. You can re-do the class over and over. The course is open to you forever!
Can I give this to a friend as a present?
Yes! You can purchase a gift certificate that you can find on the front page of this website.
Can the work I do in this course be sold or exhibited?
Yes! This class is design for you to create your own work and develop your own style. Go for it!
What about refunds?
I'm pretty positive you are going to LOVE the class. To put your mind at ease, this course comes with a 30-day money back guarantee. 
See what students have to say about Monique's teaching:
Monique, this has been so much fun and I learned so much. I don't want it to be over. I'm going to take another one of your online classes.
Judy Avrett
Monique, thank you so much for all the hard work you put into your online courses. It is greatly appreciated.
Catherine Cromwell
I knew I wanted to investigate painting techniques that Monique uses, but I had no idea how much they would influence my style of painting. I feel like I experienced a watershed moment!!!! Looking forward to keeping plugged into Monique's inspirational works.
Carol Dixon
I discovered Monique Carr while I was at an art gallery in Banner Elk! Her work is so dynamic, fresh and alive I wanted to learn how to paint with all the beautiful layered techniques that she uses! I was thrilled to join her Autumn colors workshop! And because I am a retired art teacher, I was really happy that the other students were all accomplished artists! 
She is enthusiastic and innovative in her teaching style! She does great demonstrations and helps everyone individually! I learned a great deal in two days and hope that I can incorporate some of what I learned to be looser and more 21st century with my own work! Thank you Monique for sharing your fabulous style! 
Dale Stryker
Monique, you inspire me so much and I am so thankful to know you and learn from you!Thank you for your abundance, motivation, e piu!! Baci e Mille Grazie, 
Dee Datrifiletti
The art community and those who love fine art are recognizing Monique Carr more and more for her bold and vibrant paintings.  Her fame is on the rise and yet, she continues to share her skills and talents with those who aspire to be artists.  In her own words...she enjoys it all...contemporary, abstract, impressionist, and plein air.  I have taken several different classes with her, both contemporary and impressionistic.  In each, she had students of all levels of experience and she worked diligently to meet each at their own level.  Her innovative teaching techniques make for a delightful day of class and have inspired me to pour myself into my art anew.
Karen Dorr